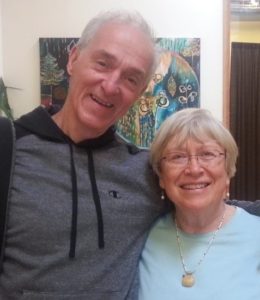 Lloyd Pauze ,E-500 RYT and 500 hr. Certified Yoga Therapist
Lloyd is a 500 hour Yoga Alliance certified Viniyoga yoga teacher and a1,000 hour Certified International Association Yoga Therapist. He began studying Viniyoga with Gary Kraftsow in 2003 and has been teaching yoga since that time.. His classes focus on correct spinal alignment, breath awareness and adaptation for each posture.. Cueing of breathing and safe alignment of each posture keep students safe and injury free. Viniyoga is designed to bring students to a deep awareness of their personal needs.
Viniyoga for all levels: Friday 11:00 to 12:15
Breath and spinal awareness allows your yoga practice to become heart centered and specific for your personal body needs. The practice includes breath awareness, safe structural alignment for each posture, and time for relaxation and meditation.
Dona Robinson, E-500 RYT and 500 hr. Certified Yoga Therapist
Dona Robinson teaches Viniyoga yoga which is designed to be adapted to each individual body. Classes are adapted to chairs, mats and helpful props. Every class begins with Dona asking students for their individual needs. Then the class is designed to meet each student's request. The class begins with students connecting to the breath. Correct breathing is encouraged so all receive the greatest benefit from the poses.
Viniyoga for all levels Wednesday 11:15 to 12:15
The focus of the postures is safe alignment for EVERY Individual Body. Dona, an experienced, 1,000 hour Yoga Therapist, watches EACH student to be sure cues are understood. Time is provided to fully aware of the benefit of each posture.
Services

Viniyoga for all levels

Rates

Class tuition $10 per class. New students, first class is free.

Phone
Lloyd Pauze: 503-869-5677 l.pauze@frontier.com

Dona Robinson : 317-938-0123 dona8799@gmail.com