Hatha, Slow Vinyasa and Vinyasa Yoga
STYLES OF CLASSES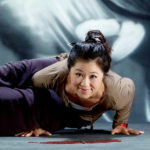 Hatha: This class is paced slow enough for students to learn the mechanics and anatomical alignment of each yoga pose and to experience the energetics of yoga movement. Various breath controls will be taught. Suitable for students new to yoga, as well as great for yoga teachers and experienced yogis to get a refresher on technique. Aromatherapy will be offered in class on occasion.
Slow VinysaYoga: While slower in movement than Vinyasa Yoga, students will be mentally and physically challenged to create tapas (heat that burns off impurities in the body). Students will be guided to move and engage where the energy circuitry is turned on throughout the body. Breath practice is key. Suitable for all levels of students. Students are encouraged to practice in accordance to one's pace and rest when needed. Experienced yogis will be challenged to cultivate stability in order to access subtler dimensions. Best suited for students with experience.
Vinyasa Yoga: This is a rhythmic, energetic flow of yoga sequences based on a garland of asanas (poses) designed for individuals looking to further increase strength and flexibility, as well as to improve breath control. With dedicated regular practice, one will feel energized, stronger and more limber. The format of a typical class consists of the following: warm up, strength/cardio, stretch, twist and finishing. Expect heat and sweat!
---
Awareness Through Movement
The Feldenkrais Method consists of two forms. Awareness Through Movement (class), and Functional Integration (private sessions). The method uses a wide variety of techniques for the purpose of improving movement and function. It is a cutting edge approach that is consistent with the latest findings in neuroscience and neuroplasticity.
Please come to experience this innovative method designed to improve your movement. The lessons are easy and appropriate for all ages and abilities. Just wear comfortable clothing and bring a blanket and a towel (for head support).
---